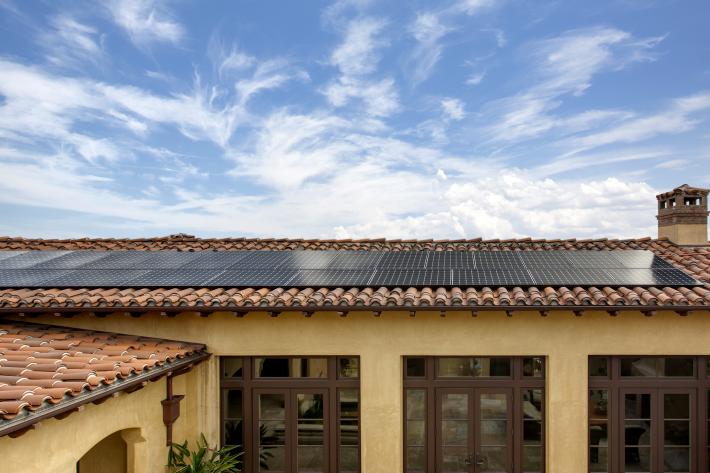 Solar ads are everywhere. You get the phone calls. You see the commercials. You hear it from your neighbors down the street. So at this point, you probably understand the benefits of solar energy. It allows you to generate your own clean energy at a lower price than what you pay your utility. You get that.
What you don't get is how to make sense of all the different financing options out there. Your brother paid cash, your boss financed and the guy at Home Depot is telling you a solar lease is the way to go.
But which one makes the most sense for your family's unique needs? This is where things can get confusing.
We understand how difficult it is to move forward once you've decided you want to go solar. We hear the ads, too. We know everyone has their two cents about what option is really the best.
That's why we made this guide. We're not married to any one financing option. We know there isn't one right way of paying for solar. There's no secret formula, no golden ticket. What it really comes down to is which option works best for you.
And isn't that what solar is all about in the first place? Control. Freedom. Energy Independence. Generating your own power on your own terms and saving yourself money in the process.
You Have More Options than You've Been Led to Believe
Solar is a simple technology.
Solar panels
themselves have no moving parts. They merely convert energy from sunlight into energy that can be used to power your home or business. But determining how to pay for your solar system? That's something else entirely. Homeowners are left feeling confused, but it's easier than they think.
Part of the confusion stems from the way many of the big national solar companies actually sell solar. Historically, most national companies focus on selling third-party financing over everything else. When you go solar with a company such as this, you're given little choice on how to best finance your system to meet the unique needs of your family's budget.
In addition to limited financing options, national solar installers generally don't custom design solar power systems to meet your specific energy consumption needs either. Instead, they're focused on mass producing cookie-cutter systems with cookie-cutter financing.
Here's How Large National Solar Companies Work
On top of having very limited financing options, large national companies' sales tactics differ dramatically from your local solar installer. The harder a company pushes the sale, the more desperate they are to close the deal before you've done your research. Don't sign until you've looked into the products – how efficient are the panels they're selling, are the mounting products leak-proof, and what are the product warranties? National solar installers generally have lower-end products and use low cost installation practices that don't protect your roof from leaks for the long haul. Don't sign with a company that isn't transparent about the product details of the solar system that's going to live on your roof for the next 20+ years.
Consider All Your Options
Unlike many national solar companies, Baker Home Energy is not publicly traded and investor-owned. We're not interested in pressuring people to go solar if it's not going to benefit them financially. We do what's best for our customers. Period. That's why we offer a variety of finance options that work. So with the goal of complete transparency, we've made a list of the facts of each of our solar financing options to help take some of the confusion out of the solar buying process.
Cash Purchase
Lowest cost per kilowatt hour + solar ownership

Eligible for solar tax credit
With a cash purchase, you buy and own the system, along with all the energy it produces. A cash purchase requires the highest upfront costs of all the options, but will generally pay for itself in five years. It also provides you with the lowest cost per kilowatt hour.
A cash purchase makes you the full beneficiary of the Federal Investment Tax Credit (ITC) which is now at 30% of the cost of your solar system along with product warranties on the system which generally span 20+ years.
Financing
Same as cash purchase without high upfront cost

Eligible for solar tax credit
When you pay for the cost of installing solar panels through a loan from your solar provider, you own the system just as you would with a cash purchase. You also get to take full advantage of the ITC.
Many of our financing partners allow you to reinvest your investment tax credit back into your loan in order to reduce payments, but you pay no penalty if you choose not to. And there are no hidden escalators attached.
In addition to choosing one of our trusted financing partners, you also have the option of financing through your own independent financing company or bank.
Zero upfront cost

Leasing company passes savings from solar tax credit onto you
Leasing is the easiest way to go solar because it requires no money upfront. With a leasing option, you don't own your solar system, but you do own the power it produces. Unlike any purchasing options, the leasing company insures the solar system for the entire period of the lease. System performance is typically guaranteed for the life of the system, and your solar provider is obligated to incur the time and cost of maintaining it.
Should you decide to move, many lease agreements allow you to reassign the lease to the new homeowner.
SunPower is one such option. SunPower offers one of the most attractive solar leases on the market. Their panels lead the industry in efficiency and energy output. That's why they're our primary leasing partner.
Another plus is that a SunPower lease comes with a 20-year performance guarantee. And, if you do happen to sell your home, SunPower actually helps you assign the lease to the new homeowner, unlike many national solar companies, which are well-known for making the process of transferring the loan or lease difficult during a move.
How Do You Make the Right Decision?
At Baker, we always encourage those who are interested in going solar to read online reviews on Yelp and other such review sites before they make the decision on the solar company they want to install their solar system. This is a big decision and can result in great financial benefits for the next 20+ years.
Unlike many other solar companies, we don't push one financing option over any others. If you're interested in learning more about what option might work best for your family, click here for a free, no-pressure quote.
For more information, visit us at bakerhomeenergy.com or give us a call at 877.578.8080.