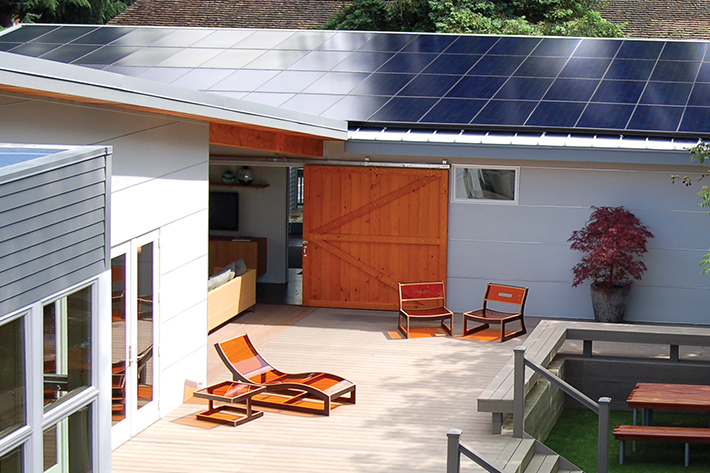 When contemplating a residential solar power system, considerations like roof warranties and installation methods are extremely important, and often overlooked. These can vary widely between solar providers, and could have a potentially negative impact on your investment if you're not careful.
For this reason, Baker Electric Home Energy wants to offer some important advice on what you need to know about your solar panel installation team.
A word about solar panel installation
Experience definitely counts when it comes installing solar roof panels. The best providers use experienced teams of licensed electricians committed to performing a professional and clean installation, including the interconnection between your new home solar system and your local utility company.
The work takes anywhere from one to five days depending on the size of the installation, but typically is complete in two days.
Here at Baker Electric Home Energy, we have produced a brief video that talks about the installation process, calling particular attention to some of the problems that are associated with some inferior yet commonly used methods of solar roof mounting. The video then goes on to explain the Baker Way and provide some valuable information on a roof mounting method that can be trusted to protect the integrity of your roof (and that is also backed with an outstanding warranty). Watch the Baker installation video >>
Watch out for solar companies that use subcontractors
Subcontracting certain portions of any construction project is common practice, particularly in the field of residential solar power systems. The economics of this are easy to understand. Keeping skilled solar panel installers off the company payroll saves a significant amount of money, and cuts down on management overhead as well.
However, when it comes to installing solar roof panels, subcontracted labor can cause problems for you and your solar provider. Unfortunately, subcontractors can be the most common source of problems in the solar installation process. Typically, the solar provider does not supervise subcontractors. If the employees of subcontractors are under-motivated or take shortcuts to make their job easier, it can lead to quality of work issues. Of course, if something goes wrong, you are likely to become frustrated when the solar provider blames the subcontractor and the path to fixing the problem is a convoluted one.
At Baker Electric Home Energy, the entire team from start to finish is comprised of Baker Electric Home Energy employees. Due to the number of residential solar power system we are installing throughout Southern California it makes sense for us to have the entire team in-house. We have achieved incredible efficiency by doing so, and as our customer, you are the benefactor of this efficiency.
Use of bathrooms by solar installers
No matter which solar provider and residential solar power system you pick, when it comes time to put the system on your property, their crews could be there up to five days, although two days is more the norm.
When nature calls, that could mean many requests by solar panel installers to troop in and out of your house to use the facilities, which can become a major imposition.
Be sure to ask your prospective solar provider about how they handle this situation and whether they intend to provide their own "porta-potties".
The importance of a solar installation warranty
In order to mount solar roof panels, your solar provider must do two things: drill dozens of holes through the roof; plus, they must remove a select number of tiles. When most consumers discover this they immediately become concerned about potential leaks and the general integrity of their roof, and for good reason.
The short-term concern is the quality of work your solar provider will perform. Do they warranty all of the work and modifications to your roof? If not, it's best to keep looking. Whereas the long-term concern is roof damage, subsequent leaks, and the thousands of dollars in repairs they can easily cause.
It is recommended that you seek a solar provider that provides a long-term warranty on all of their work.
Solar panel roof mount rubber seals break down over time
Rubber seals and other materials that are exposed to the elements must be capable of enduring. A solar installation is a semi‐permanent addition to your home with an intended lifespan of 25+ years. Over that time materials can break down, cracks can form and leaks could begin penetrating into your attic space. These breakdowns can cause wood to rot and mold to form. Remediating these conditions can be very expensive. In extreme cases, a roof might need to be replaced.
The solution to these concerns is finding a great solar provider that is reputable, uses proper installation techniques and products, and that also provides a strong solar installation warranty.
It is important to note that at Baker Electric Home Energy we pride ourselves on using only the highest quality and most durable components and materials, and our warranty is one of the best in the business.
Solar panel roof mounts and protecting the integrity of your roof
Mounting methods vary by roof type. But two popular solar panel roof mount systems on tile roofs are Quick Mount PV's® QBase Universal Tile Mount system and ProSolar's TileTrac®.
How Quick Mount can save your roof
ProSolar's TileTrac® system is simple to install and considerably cheaper than alternatives. For this reason, it is the choice for many solar electric companies in Southern California. However, at Baker Electric Home Energy, we have opted to use Quick Mount PV's® QBase Universal Tile Mount system exclusively. This is because the Quick Mount PV® QBase Universal Tile Mount system provides a vastly superior way to secure the solar roof panels while preventing leaks that can damage both your roof and the interior of your home.
To help you further understand its benefits, take a moment to watch this short video illustrating the merits of the Quick Mount system. Watch a solar panel roof mount video >>
In addition, Baker's blog Roof Mount Product Comparison for Residential Solar also goes into great detail about the pros and cons of the two major mounting systems, and why we've chosen the Quick Mount method.
Consider the Baker Electric Home Energy installation warranty
Baker Electric Home Energy offers two industry-leading warranties that reflect our top-notch installation methods, quality workmanship and attention to detail every step of the way:
Our full 25-Year Workmanship Warranty guarantees the construction and installation of your solar system to be free from defects for a period of 25 years after completion.
Our 10-Year Roof Warranty covers each roof penetration, including the surrounding area within a three-inch radius. We guarantee these will be free from damage to the roof and against water infiltration through the roof.