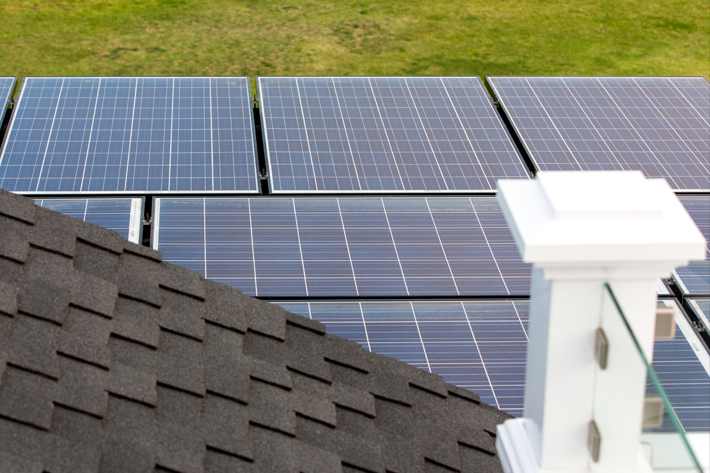 Read this article for more recent information about California Solar Incentives
Here's a fact you might not know when you go green with residential solar panels in San Diego: You have legal rights.
Early in its support of solar energy, California recognized that the sun belongs to everyone and that homeowners who install rooftop solar panels in San Diego, and across the state, should have limitless access to sunlight. In 1978, and in the years that followed, the state legislature passed laws that support residential solar panel installation and operation. The laws prevent neighboring properties from blocking sunlight needed by solar panel users. The main law, the Solar Rights Act, also keeps homeowners associations (HOAs) from interfering with the installation and use of solar panel systems.
To be certain you understand your rights, take a look at this quick review of the protections given to residential solar panel users under California law:
Solar Rights Act
The California Solar Rights Act offers two important protections:
Your right to full sun
The act created the right to a solar easement (a right to cross or otherwise use someone else's land for a specified purpose) for homeowners who install solar panel systems. Since your system must be free to fully access sunlight, this means you are guaranteed unrestricted use of the airspace above your solar panels. Trees and shrubs on a neighboring property cannot shade your system. The same goes for remodeling projects that raise the height of an existing property on an adjacent parcel of land, as well as new construction projects that limit the amount of sun that can reach your solar panel system.
California courts have ruled that solar easements can only be enforceable when they're in writing. In other words, both parties (you and the adjacent property owner) must validate the easement in a written document. The law requires the neighboring property owner to comply with the easement, but sometimes the other property owner might be reluctant to sign. In that case, the advice of a lawyer might be necessary.
HOAs and local government can't prevent your solar panel installation
The Solar Rights Act also limits the ability of the rules and regulations used by HOAs (called covenants, conditions, and restrictions or CC&Rs) to interfere with or prevent the installation of solar panel systems on homes under their jurisdiction. This section of the law also applies to cities, counties, and other municipalities and government agencies.
Something to note: The law specifically states that a CC&R "that effectively prohibits or restricts the installation or use of a solar energy system" cannot be enforced, but it doesn't define what "effectively prohibits or restricts" means. Recognizing the many variations of CC&Rs possible under the thousands of HOAs in California, the court system has tended to be flexible in its approach to questions concerning CC&R and makes determinations on a case-by-case basis.
Plus, while the Solar Rights Act stops HOAs from enforcing CC&Rs that prevent solar panel installations, it doesn't keep them from imposing "reasonable" restrictions on some residential solar panel systems. Here the law is clear: Any restrictions on home solar systems cannot raise the cost of the system by more than $1,000 or reduce the efficiency of the system by more than 10%.
Solar Shade Act
What if your neighbor plants new trees that eventually grow and block your solar easement? The state legislature considered this possibility when it passed the Solar Shade Act. This law stops property owners from allowing trees, shrubs, or other vegetation to shade their neighbors' existing solar panel systems. "Existing" is a key word to keep in mind: The law only applies to shade-stealing trees or other vegetation that was planted after a solar energy system was installed.
Expedited Solar Permitting Act
When it passed this law in 2014, California became the first state in the nation to mandate that local governments make the process of securing permits for residential rooftop solar panel systems faster and easier for homeowners. The new law modifies the Solar Rights Act by requiring that local municipalities adopt ordinances that streamline and accelerate the solar permitting process. Among other things, the law ensures a single inspection and allows the use of electronic signatures on permitting documents.
We're Here to Help
Knowing your solar rights is important, but at Baker Electric Home Energy, we think you're also entitled to exceptional customer service when you install a solar panel system for your home.
As part of our easy 10-step installation process, we'll take care of the permitting details to get your system up and running quickly and efficiently. Our expert staff will obtain the necessary permits from your city or county for you.
We'll help you every step of the way with your installation, from surveying your property and designing your system to installing it and securing all necessary city/county and utility approvals. As a top residential solar panel installer in Southern California, we're known for our exceptional service, guaranteed workmanship, and attention to every detail. See how we do it https://www.bakerhomeenergy.com/residential/solar-installation-process, and let us know if we can help you with your solar questions.
Note: This post is intended as a summary for educational purposes and not legal advice.