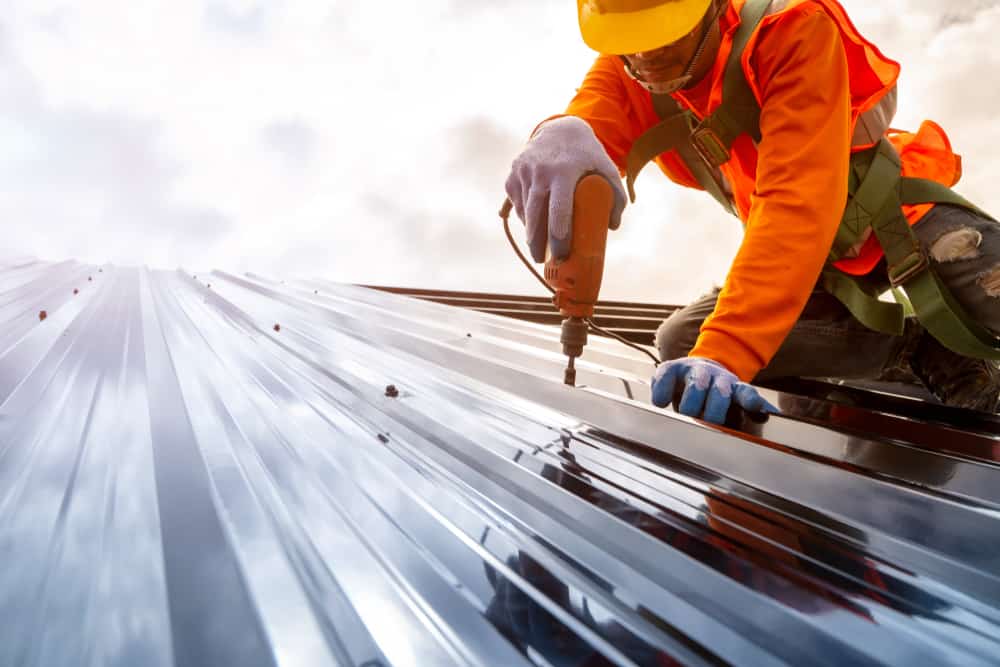 While basic human needs still include "shelter," today's housing options have evolved well past simple grass huts. Beyond mere shelter, homeowners look for well-built structures that provide value and longevity—and also keep them safe and dry.
Although many people may associate a metal roof with industrial or commercial structures, more homeowners are turning to metal roofs for reliable, long-term solutions. Shingle roofs are much cheaper to install than metal roofs, but the lifespan averages about 15 to 20 years.
With a longer lifespan of about 40-70 years, metal roofs are more expensive to install, but also require little maintenance. This makes them more affordable in the long term, and also appeals to those interested in sustainability.
Shingle roofs
Tile roofs
Metal roofs
15-20 yrs.
~50 yrs.
40-70 yrs.
Renewable home energy systems can also increase your sustainability, especially because solar panels are unlikely to outlive metal roofing. If you do plan to install solar panels on a metal roof—rather than asphalt or slate shingles—there are some key considerations to keep in mind.
How Metal Roofs Differ from Other Materials
Integrating photovoltaic systems with metal roofs can create confusion for some solar installers and roofers. While residential solar technology is becoming more common, the popularity of metal roofs has skyrocketed in recent years. As a result, a gap in knowledge may exist for some roofers between incorporating new roofing materials and installing solar systems.
Another important consideration for metal roofs is to make sure the installation team maintains your roof's integrity to preserve its characteristic watertight qualities. While some kinds of metal roofs can use clamps to mount solar panels, other types will require specialized frames and mounts to retain the seal.
Understanding Different Types of Metal Roofs
In addition to the material itself, the way metal is formed into roofs differs greatly from more common roofs of slate or asphalt shingles. Three of the most common types of metal construction are corrugated, tile, and standing seam roofs. Each requires installers to use a different method for attaching photovoltaic panels, and each comes with a specific set of potential issues that could arise.
Corrugated Roofs
Corrugated metal has been around for centuries, but it's become an increasingly common alternative to non-ferrous materials for economical roofing.
Corrugated metal is fabricated by shaping a flat sheet into a wave pattern, similar to the inside of a cardboard container. The depressions of each trough allow for adequate drainage, and the structure is much stronger than a simple flat metal sheet.
While they are extremely lightweight and cost-effective, these constructions are not meant for significant weight loads. As a result, mounting systems must spread the force of the panels over larger areas. The existing solutions for corrugated roofs include installing rails with several mounting points, as well as brackets that mount on at least two high points to distribute the load across the roof.
Standing Seam Roofs
Standing seam designs offer some of the most flexible options for installing solar panels. They are distinguished by a raised bar, or seam, every couple of feet, bordered by a drainage channel. This design offers two specific ways to mount panels:
Thin-film panels can be installed directly and connected between the seams. This ensures minimal penetration of the roof and reduces the risk of potential leakage. However, this method also offers little flexibility in terms of angling the panels to capture the maximum amount of sunlight.
Some mount designs can use the seams themselves as mounting points via brackets that clamp. This provides slightly more flexibility for angling but still limits the need for screws and anchors that could affect the integrity of the roof.
Metal Tile Roofs
Metal tiles are the third type of metal roof construction and, as the name implies, they create a checkerboard-like layout along the roof. There are also two methods for mounting solar panels to this type of material, but they require a bit more customization and planning than those for standing seams:
Mounts that take the place of individual panels limit the need for drilling and using silicone or polymer sealants because they simply replace the tiles in the existing roof. Such mounts must be carefully designed to fit the measurements of tiled systems and may not always work with your specific materials.
The same rail mounting system used for corrugated roofs can also be used for metal tile roofs. Be sure that the installation company has enough experience with these systems to ensure that they can properly seal the mounts themselves so there is no gap in the roof's moisture barrier.
Get Help Installing Solar Panels on Your Metal Roof
Installing solar panels on a metal roof is a great way to provide long-lasting energy savings with systems that will endure as long as the roof itself. With so many design options available for mounting photovoltaic systems onto metal roofs, it's important to work with trained experts to help you find the best fit for your home.
Baker Electric Home Energy has served the Southern California area for over 15 years and provided clean energy solutions to more than 17,000 of your neighbors. Our way of doing business, The Baker Way®, which includes delivering extraordinary service and building customer confidence, is exemplified by being awarded the Torch Award for 2021. For more information on installing solar panels on the metal roof of your home, contact us.