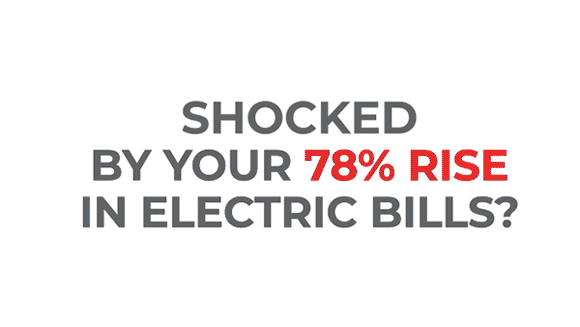 Does it sometimes feel like your utility company is plugged directly into your wallet? Well, you are not alone. Energy prices for CA consumers have consistently been among the highest in the US, and are unlikely to change in the foreseeable future. So why are California's electric bills so high?
Knowing some of the factors behind high electric bills and price hikes can help you understand why the average California has such a high cost of electricity. Beyond mere understanding, this information also demonstrates why now is the ideal time to explore ways to mitigate or eliminate these uncontrollable costs from your budget.
Why Does Electricity Cost So Much?
A Historical Perspective
For the last 140 years, electric production in the US has relied on a diminishing supply of fossil fuels—coal, oil, and natural gas—as well as nuclear power plants and hydroelectric facilities. The past 15 years, however, have seen a significant increase in consumers using renewable sources for residential energy, including solar, wind, biomass, and geothermal.
Current Perspective
Despite the increase in renewable energy, consumers still pay more for electricity every year, regardless of the source utilities employ. While this applies to the US as a whole, the same trend is reflected across the states, including here in California.
Did you know that since 2019, CA utility rates have increased 11 times?
The most recent increase in January of 2022 raised rates by 16%
The utility companies that supply California's electricity are also known as Investor-Owned Utilities (IOUs), which designates them as corporations driven by profits. They all answer to the California Public Utilities Commission (CPUC), a state regulatory board with five Governor-appointed Commissioners. According to their website, the CPUC works with for-profit utility companies to approve "reasonable" public electricity rates, prevent fraud, and "promote the health of California's economy."
According to the California Public Utilities Commission (CPUC), since about 2014 the average electricity cost per month rose exponentially:
PG&E: from 15 to 22¢/KWhr = 47% increase
SDGE: from 16 to 24¢/KWhr = 50% increase
SCE: from 18 to 32¢/KWhr = 78% increase
Factors Driving High Electricity Rates Today
Understanding why high electric bills get so high and are getting higher requires knowing what factors contribute to the energy costs that consumers pay. The most significant of these are:
📈 Fuel costs: Scarcity of supply; global politics
📈 Wildfires: Disrupt energy flow; destroy or damage utility delivery systems
📈 Structural and other grid improvements: Costly and time-intensive
📈 Taxes (and energy policies): Federal and state incentives and legislation
📈 Individual usage: During peak, off-peak, and off-off-peak hours
Most of these factors are not only quite complex, but are also shaped by events that extend beyond California, and even US boundaries. This situates them far beyond the capability of residents to leverage control of their electricity bills, aside from usage.
Immediate Actions: Make Yourself an Educated Consumer
Fortunately, you can still take actions to mitigate the effects driving the cost of the California average electric bill. The simplest action is to check your online utilities account regularly.
Most people do not review the details of the bill or do not review their bill at all and are surprised by high electric bills when they eventually get to their monthly statement. Many do not check their usage regularly, especially if they set up automatic online payments. To reduce the impact of this costly oversight, you should check your utility account online and look for the answers to some specific questions:
When do you use the most electricity?
What rates do you pay during those hours?
Do you know what rate structure you've signed up for?
Regularly reviewing your utility account gives you a basic overview of your usage and rates. Consumers in SoCal can choose one plan out of up to seven different options for residential utility rate plans. However, most customers are defaulted by the utility company into one plan, which may not be the right one for you. So, if you don't know the details of your current plan, you may be missing out on discounts and/or benefits from another plan.
In addition, low-income consumers may qualify for discounts on utility rates up to 35% through the California Alternate Rates for Energy (CARE) program. SoCal families with incomes slightly exceeding CARE guidelines may still qualify for the Family Electric Rate Assistance (FERA) program, which offers an 18% discount.
Best Actions to Counter high California Electric rate Hikes
Most conscientious homeowners already practice good habits, such as turning off unused lights, and keeping the thermostat at a fixed temperature based on the time of year. Moreover, these actions have little, if any, impact on the other significant driving forces. Homeowners can still make choices to lessen their dependence on traditional electrical grids and utility companies.
1.) Moderating home electricity use appears to be the most effective tool residents have against escalating electricity costs. However, this option is not without its limitations.
2.) Another option is to install your own renewable energy system. You may be surprised to learn of the wide variety of options now available, including solar shingles, solar roofs, and solar panels, which can be installed on a wide range of roof types, including clay.
3.) When you store your overgeneration in a battery unit, a residential solar system gives you considerably more control over your electric bill. Selling this overage back to your utility can help you meet your energy needs and lower your costs.
Now is the best time to optimize these benefits, as new legislation, Net Energy Metering 3.0 (NEM 3.0), may soon go into effect and will likely lower the rates you can receive from your utility. To ensure you optimize your home solar energy system and reduce your electric bill as much as possible, you should consult an expert in solar installations who will give you the facts about a solar system for your home.