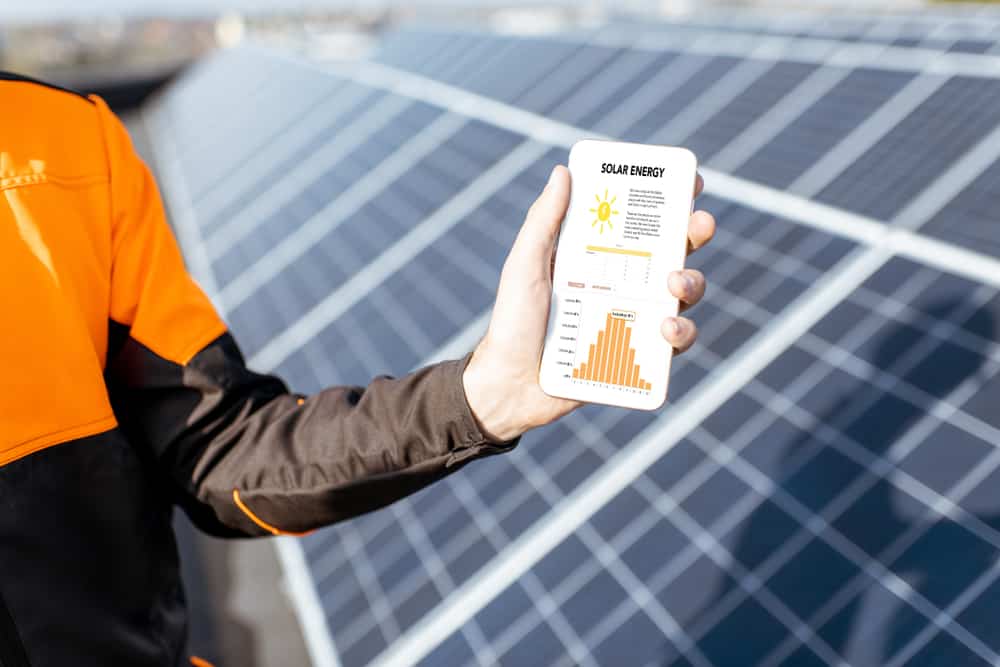 Investing in a residential photovoltaic (PV) system for renewable energy generation can save homeowners thousands of dollars over the years, as well as reduce the whole family's carbon footprint. During installation, it's possible for project technicians to add per-panel monitoring for your solar home system. Knowing the benefits of this option can help you decide whether or not to include it in your project.
Before diving too deeply into the advantages, however, it makes sense to understand a bit more about the technology of solar panel electricity generation and home electricity use.
Quick Guide: DC vs. AC Current and Inverters
When people think of electricity, most think of their power as consistent. After all, when you flip a switch or plug in an appliance that object turns on, no matter the time of day.
At the level of circuits, however, that perception of constant power is an illusion. For a variety of reasons, the electricity coming into your home is sent as a current with a rapidly fluctuating magnitude that varies —like a pulse—at 60 cycles per second. That's why it is called alternating current (AC).
Solar panels, like all kinds of batteries, deliver power in direct current (DC), without modulating the current's magnitude. Whatever electricity the panels produce goes directly into the home's electrical system. Obviously, this requires some form of conversion that allows residential systems to use this energy. An inverter is a circuit and/or mechanical system that converts incoming DC currents into usable AC power.
String vs. Per-Panel Inverters
For most solar home systems and smaller commercial installations, the standard practice has long been to install panels in a series, attached to a single inverter. This provides a few benefits: simple installation, low cost, and many homeowners who were early adopters of solar energy (prior to 2000) would not have had the technology to monitor their own systems. However, with the advent of smartphones and the Internet of Things, that has changed.
Now, homeowners can choose from a variety of methods to track the electricity generated by each panel in an array, via web-based software, smartphones, or tablets. As a result, solar installers now offer systems that include per-panel microinverters that attach to each panel installed on a home's roof.
Why Per-Panel Monitoring Makes a Difference
A microinverter is the key to per-panel monitoring since it measures the current generated by each solar panel. A microinverter gauges the amount of energy that goes into the household, back into the grid, or into a battery storage system, among other functions.
Solar panels are designed to capture as much sunlight as possible, and as such, are usually installed at a precise angle. However, a microinverter can also help to create conditions for maximum storage generation by changing the internal resistance of the panels based on temperature, available sunlight, and other factors. In fact, some studies suggest that a residential array of panels with per-panel microinverters can increase efficiency by at least 10 percent.
When it comes to per-panel monitoring, not only is it possible to see these changes in efficiency in real-time, but the required equipment increases efficiency via environmental conditions. As a crucial bonus, if there is a problem with an individual solar panel, tracking its generation capacity is an easy way to find out if repairs or replacements are needed.
It's important to remember that with per-panel monitoring systems, not every panel will operate at 100% at all times because your entire array generates power as a whole. If a monitoring report indicates that some of your panels are not running at optimal efficiency, that does NOT mean you have a system failure. However, a per-panel monitoring system will alert you immediately about issues with individual panels.
Get Help with Per-Panel Monitoring For Solar
Per-panel monitoring for solar panel installations can offer a number of benefits to homeowners, including improved efficiency and early notifications of potential solar system issues. To ensure your home solar panel project works within your renewable energy goals and your budget, be sure to partner with an installation company that understands the pros and cons of different system designs.
Baker Electric Home Energy has served the Southern California area for over 15 years and provided clean energy solutions to more than 17,000 of your neighbors. Our way of doing business, The Baker Way®, which includes delivering extraordinary service and building customer confidence, is exemplified by being awarded the Torch Award for 2021. For more information on installing per-panel monitoring for your solar panels, contact us.