Handmade Solar Creations and DIY Ideas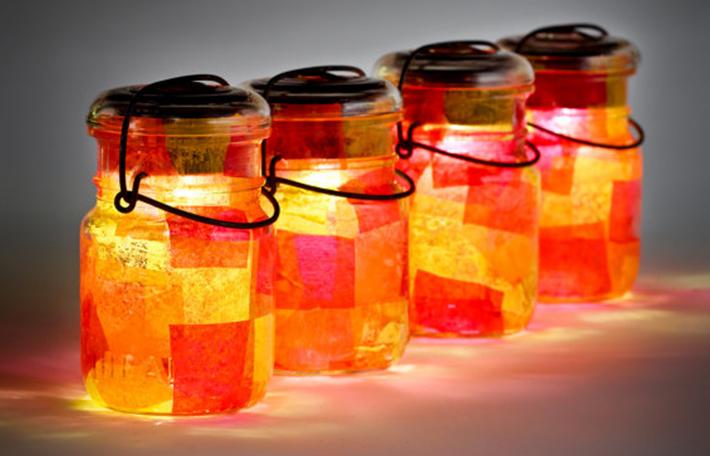 Are you familiar with Etsy.com? Etsy is a marketplace where people around the world connect to buy and sell unique goods. Solar creations are a popular category for the artists, designers and crafters on the popular e-commerce website. In line with Baker Electric Home Energy's commitment to renewable energy and sustainability, many of the innovative products sold on Etsy are created using recyclable materials and/or are designed to help our environment.
DIY and Gift Ideas
With the holidays right around the corner, you might want to visit Etsy – it's a natural place for finding that certain something for the person who has everything! When we searched "solar," we found a variety of creative and beautiful products. The categories included outdoor decorative solar lighting, with solar decoupage mason jar lights, solar luminaries and lanterns along with beautiful garden décor items, solar prints for framing and more.
If you're an artist / designer entrepreneur, we'd encourage you to check out Etsy for your products. In fact, there was a vendor who sells solar mason jar lids with rechargeable batteries – four for $20. Purchase some mason jars, decorate, screw on your solar lids and voila . . . you've made your own custom decorated backyard lights!  Place your jars in a location where they receive direct sunlight throughout the day and upon sunset the light will automatically come on and shine bright through the night.
Similar to the solar energy systems and savings we bring to our customers across Southern California, we find Etsy's mission to re-imagine commerce in ways that build a more fulfilling and lasting world a huge positive. The company states on its website that it's proud to be a certified B Corporation — a new kind of company that uses the power of business to solve social and environmental problems, and also states that it's site is lovingly built and maintained by fine folks who work in Brooklyn, Hudson, San Francisco, Berlin, Dublin, London, Toronto, and around the world.
Alternatives to Mass Commerce
CEO Chad Dickerson refers to building an Etsy Economy together — a way of doing business synonymous with an economy that values and honors the people who design and make goods, is transparent about the way they are made, and connects the people who make, sell and buy them. The one-person shop is still the heart of Etsy, and one-of-a-kind items, vintage treasures, and craft supplies all have a place in the marketplace. Etsy is helping people build businesses they love and enjoy. With a member community of 40 million people and sales over one billion dollars in 2013, consumers have made it clear that they are hungry for thoughtful alternatives to mass commerce and impersonal retail. They want goods with more individuality and meaning.
We find a similar consumer response to our residential and commercial solar systems in the marketplace. People want to simplify their lives, and they want to be a part of the solution to save our environment. Going solar the Baker Way is a step in the right direction – relying on the sun for energy while saving money and reducing one's carbon footprint makes common sense and feels good!
To learn more about how solar works either with a solar mason jar lid for a fun decorative garden light to a full solar system for your electric bill savings, call Baker Electric Home Energy at 1-877-578-8080!