Site Survey for Solar Power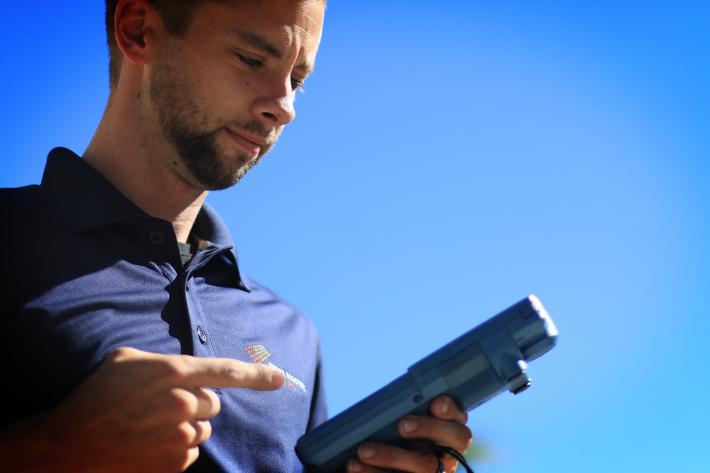 The Baker Solar Installation Process – Step 2 Site Survey
After seeing what the solar energy consultant proposed, you accepted and signed the contract. Now what?
Now you're ready for your site survey. So what exactly does a site survey entail? What questions should you be asking your solar company? Are there specific questions related to going solar in San Diego? What information do you need to bring to your site survey?
At Baker Electric Solar, our goal of a site survey is to check out a homeowner's property and confirm that what the solar energy consultant has designed is in fact the best possible solution. Our solar energy consultants are good at what they do and have been designing solar systems for many years, but our site survey technicians are specifically trained to evaluate sunlight readings and roof conditions.
While up on the roof, the surveyor will note for things like the overall dimension of the roof, slope angles, locations of the chimneys and vents, and even the overall roof thickness. Your surveyor will know if the roof is in proper condition and will inform you if roof work is needed prior to going solar.
Another important aspect of the site survey is to take note of possible obstructions, like tall trees, on or near your property. The surveyor will use a tool called a SunEye-210. The SunEye is the world-leading shade measurement tool for solar site assessment. It assesses the available solar energy by day, month, and year with the press of a button by measuring the shading patterns of a particular site. We promise that our solar installations will generate a certain amount of electricity every year, and using this tool allows for both Baker and the homeowner to be confident of that production guarantee. We want to make sure that the beautiful San Diego sun can reach your solar panels.
The site survey technician will also inspect the attic, service panel, and internet connection in the home.
After the site survey is complete, Baker Electric Solar will take the information gathered and provide a number of things for the homeowner. First, we confirm that the number and type of solar panels used in the design of the solar energy consultant is accurate. Along with that, confirmation of production guarantee.
So what do you need to be aware of as a homeowner? First and foremost, make sure that your site survey is done by a professional and licensed solar company – you don't want just anyone up on your roof! Also, be prepared to let the site surveyor know where you want your inverter(s) mounted (when applicable).
In the end, there are two key factors that your site survey is determining: whether your location gets enough sun and are there any hindrances to the installation taking place (such as a poor roof). Regardless of whether you are going solar in San Diego or Boston, site surveys will look similar. Remember, detailed physical measurements and sun readings ensure best designs.
Want more information about going solar in San Diego? Get a quote today from one of the members of Baker Electric Solar.