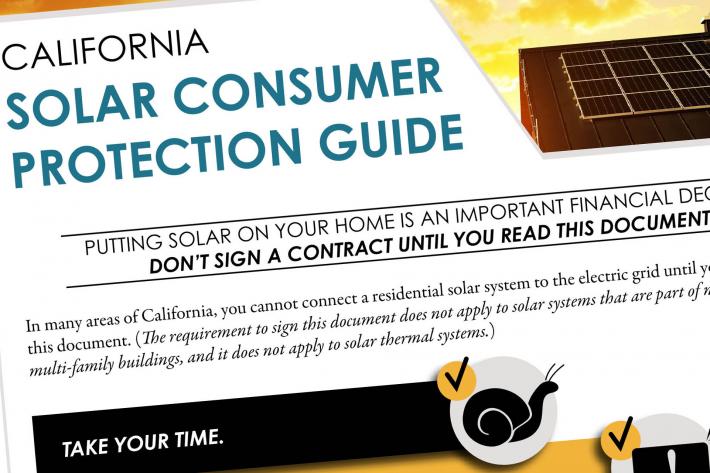 Read this article for more recent information about California Solar Incentives
We believe in residential solar as a great way to create renewable energy, take more control over your energy use, and to save money on your electric bill. We also take great pride in the high quality of our solar system designs, our installation work, and the components that we select for each project. Our company philosophy is called The Baker Way, and it ensures we operate with the highest level of integrity and honesty and deliver top quality in everything we provide.
Unfortunately, as in any industry, there are companies that do not operate at the highest levels of ethics or with the proper emphasis on quality. Because of this, we are excited that the California Public Utilities Commission (CPUC) has a new safeguard for customers with the California Solar Consumer Protection Guide. Beginning on September 30, 2019, all solar sales in California will require that this document be read, initialed, and signed as part of that sale process.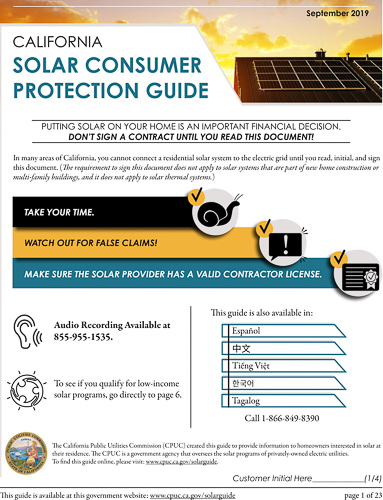 Why You Should Read The California Solar Consumer Protection Guide Now:
We are excited to promote this solar customer guide because it offers a wealth of good advice and information to anyone looking into going solar. If you're going to be purchasing home solar after September 29, 2019, you'll be required to read and sign the CPUC's Guide before moving forward with the installer you hire. But it's a great idea to read the California Solar Consumer Protection Guide well before reaching the final steps in purchasing a solar system, because being more informed can help you find the right solar provider.
We think the more you look into solar companies, the more you'll see what we see – that The Baker Way of conducting business is the right way to do things and that Baker Electric Home Energy is the right choice for anyone looking for a home solar system in the San Diego County/Riverside County/Orange County areas.
We've pulled out some helpful tips from the Guide as a quick way to start looking into the best methods to find the right solar provider for you. We also hope these short tips inspire you to carefully read the full Guide before reaching the contract-signing phase; after September 29, 2019 all solar customers in California will be required to read it before purchasing solar, so please read it early to help you through the full process. We want you as informed as possible, because we are sure that the more you know, the more obvious it will become that Baker Electric Home Energy is the best choice. The process may seem daunting, but solar panels on your home provide so many benefits we think and hope you'll agree it is a very worthwhile endeavor for you and your family.
The CPUC's new protections, and considering that the solar ITC tax credit decreases after 2019, means 2019 is a great time to be considering solar installation companies as a way to become energy independent.
Visit California Solar Consumer Protection Guide to learn more.
Can you get free solar?
Tip #1 Watch out for the false claim that you can get free solar energy at zero cost. Exceptions to this are income-qualified single-families or families living in a disadvantaged community that qualify for programs sch as SASH, DAC-SASH, DAC-GREEN or the Community Solar Green Tariff Program. (pg. 2 and 6). [Please note: Solar is not free, but even without qualifying for any programs, a home solar system will pay for itself in a short period and reap financial savings for years to come.]
Does solar eliminate electric bills?
Tip #2 Watch out for any solar installer claiming you'll never pay an electricity bill ever again. Solar will lower your bill, and through the Net Metering program your utility will buy back excess electricity that your system produces, but a system that guarantees zero electricity bill is likely overbuilt and not the ideal financial approach (pg. 2 and 17-18). [Please note: A solar system is not an unlimited power source. If you use more power than you produce, you will see a bill. We take great efforts to size a system to meet your current or expected future needs – we'll discuss any anticipated changes in consumption with you.]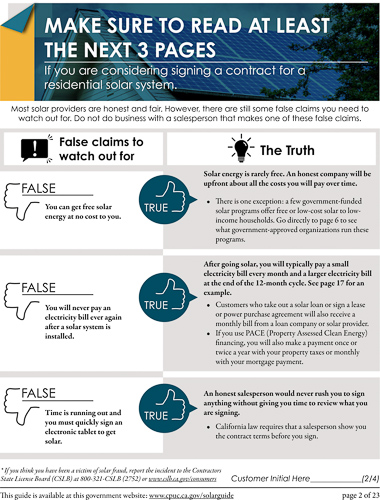 See the contract terms…
Tip #3 Don't feel rushed to get solar. Review and understand any contract you sign – California law requires a salesperson to show you the terms of the contract before signing. (pg. 2). [Please note: We want you to make an informed decision so please take your time. We are confident our reputation, installation practices and warranty will set us apart from our competitors.]
…in your langauage
Tip #4 "You have the right… to a copy of a solar contract and financing agreement in the language in which the salesperson spoke to you." (pg. 3). [Please note: Know your rights and don't be taken advantage of by a contract that is not in a language that you are comfortable with.]
Get the total cost
Tip #5 By law, if purchasing a home solar system, a salesperson must provide you with a completed Solar Energy System Disclosure Document so you can see the total cost of your system. (pg. 3). [Please note: The front page of our sales contract is the required CSLB (Contractors State License Board) disclosure. You have the right to know the total cost of your solar system and any reputable contractor will comply and provide it.]
Read the full guide
Tip #6 You have the right to read the entire 23-page Guide. [Please note: Your solar system will not be allowed to be turned on if your solar installer does not have a signed and dated copy of the Guide prior to your contract date.]
Three days to cancel
Tip #7 You have three days to cancel a solar system sales contract for any reason. (pg. 3). [Please note: We reiterate this 3-day cancellation right and reiterate that on page 2 of our contract. We respect that and want you to be satisfied, so we'll work with you even beyond that.]
How do I check a contractor's license?
Tip #8 Get proof of an installer's valid Contractors State License Board license; it needs to be a C-46, C-10 or B classification. (pg. 4). [Please note: Baker Electric Home Energy holds all of these licenses under NB Baker Electric Inc. (dba Baker Electric Home Energy); our C-46 and C-10 (as well as C-39 for roofing and C-20 for HVAC) license number is 858088; our parent corporation's B license number is 161756.].
Getting solar bids
Tip #9 Get multiple bids. The California Solar Consumer Protection Guide recommends getting three bids and advises that the lowest does not mean the best. It also encourages you to ask questions because a qualified company will be happy to answer them all. (pg. 4 and 9). [Please note: Not all systems are created equal. Proper design and installation matters. Be sure you understand what products are being used and how they are being installed. We're here to answer any questions.]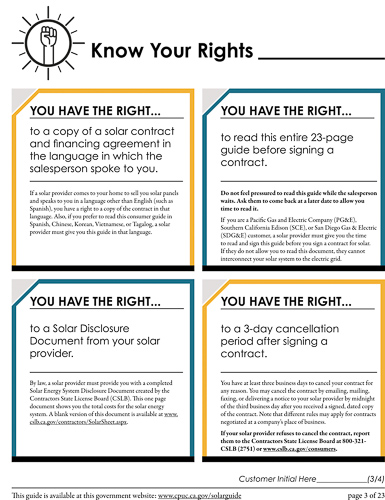 Home efficiency
Tip #10 Get energy efficient before getting solar. "Making your home energy efficient before going solar can decrease your overall energy use and reduce the size of the solar system you need, potentially saving you thousands of dollars." (pg. 5). [Please note: To properly design a system, Baker Electric Home Energy likes to have 12 months of electric use information (and permission from you to see your Green Button data from the utility that gives more precise usage time) to properly predict future energy use. We'll also look into your future needs (growing family, addition of a pool, addition of an electric vehicle, etc.), your future improvements toward energy efficiency, and we factor in that most solar customers end up using slightly more energy after their solar panels are installed because they're more comfortable enjoying appliances such as their air conditioning, dishwasher, etc.]
Checking on salespeople
Tip #11 Solar salespeople, other than in limited exceptions, must be registered as a Home Improvement Salesperson (HIS); you can check their registration through the Contractors State License Board (pg. 7). [Please note: All of Baker's solar sales employees are HIS-registered.]
How long does solar installation take?
Tip #12 Be aware how long the process takes. "It typically takes 1 to 3 months after you sign a contract for the solar system to be installed at your home. • After the solar system is installed, it typically takes 2-3 weeks to receive approval from your electricity provider to turn your system on. It could take longer depending on your circumstances." (pg. 8). [Please note: The time from signing a contract to installation varies with job scope, complexity and permitting requirements. We are here to help and to answer any questions during the entire process.]
How do I find a licensed solar installer?
Tip #13 A resource to search for Solar Providers in your area is cslb.ca.gov. Search for contractors with a C-46 (Solar Contractor), C-10 (Electrical Contractor) or B (General Building Contractor) license. (pg. 9) [Please note: Baker Electric Solar Energy is located in Escondido, CA; contractors are categorized by their office location not each city in which they provide service. Baker Electric Solar Energy installs systems throughout San Diego County and also Riverside, San Bernardino and Orange counties.]
Can I compare solar installer costs?
Tip #14 A government-funded resource that shows a list of Solar Providers and recent installation costs is www.CaliforniaDGStats.ca.gov. (pg. 9) [Please note: The costs listed on this website are self-reported as part of the permit process and might not reflect the actual project costs. Most contractors do not list their actual sales cost, for obvious competitive reasons. Some contractors severely under-report actual costs to try to attract customers. Don't be misled by inaccurate information.]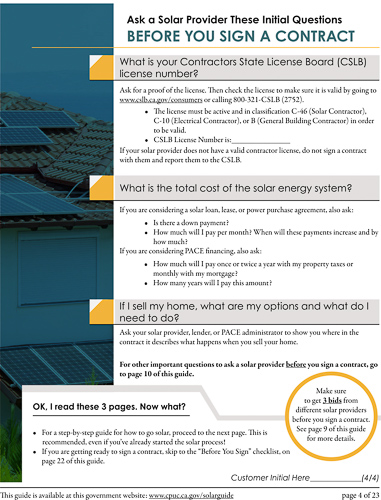 Solar customer reviews
Tip #15 a suggestion to narrow down the list of potential Solar Providers is to check trusted customer review websites online, and notes, "Since some websites may not be neutral, check a few different websites to make sure reviews are consistent." (pg. 9) [Please note: We encourage you to check customer reviews. We also welcome you to visit us at our offices in Escondido and Murrieta and see that we are a real brick and mortar business, not just a website or a person with a truck. Our offices also ensure you'll be able to find us if you need us.]
Solar installer certification
Tip #16 for further narrowing down which Solar Provider you should pick, "It's a good sign if companies employ installers certified by the North American Board of Certified Energy Practitioners (NABCEP), a high standard in the industry." (pg. 9) [Please note: We have NABCEP certified personnel and have been invited to present at a number of their training conferences.]
Best vs. lowest solar bid?
Tip #17 for getting bids, "Note that the best option for you is not necessarily the cheapest bid. A very low bid may indicate that a Solar Provider is trying to cut corners." (pg. 9) [Please note: As with most things in life, you typically get what you pay for. We don't cut corners. If it sounds too good to be true, that should be a red flag.]
Will my solar company farm out the installation?
Tip #18 One of the suggested Company Background questions is "Will you subcontract with another company to install the solar system? If so, what is their CSLB contractor license number?" (pg. 10). [Please note: Baker Electric Home Energy uses only in-house employees, who are all union members of IBEW (International Brotherhood of Electrical Workers) Local 569, for all standard work of our solar installations. The exception to this is that we do use a few qualified specialty subcontractors for earthwork, stucco repair and some roofing.]
Established solar companies
Tip #19 One of the suggested Company Background questions is "How long have you been in business and how many systems have you installed?" (pg. 10) [Please note: Baker Electric Home Energy was formed out of Baker Electric, Inc. in 2006 and was built on over 80 years of electrical contracting experience. Baker Electric Home Energy has installed over 13,000 residential solar systems in Southern California.]
Can my roof take solar panels?
Tip #20 A suggested question for a potential Solar Providers is, "Is my roof a good candidate for solar? Why?" (pg. 10) [Please note: We utilize a specific evaluation software to model your home's solar access and production.]
New solar on an old roof?
Tip #21 One of the suggested Design & Roof questions is "Does my roof need to be replaced before installing solar panels? If yes, how much will that cost, who will do it, what is their license number, and is there a roof warranty?" (pg. 10) [Please note: Baker Electric Home Energy will evaluate your roof and let you know if we don't believe there is at least 10 years of remaining life left in your roof.]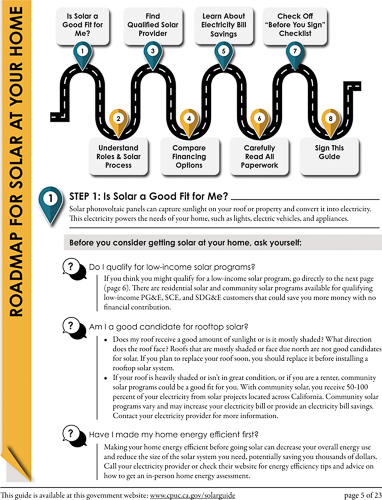 Do solar panels have a warranty?
Tip #22 The Guide suggests customers ask, "Are there warranties for the panels and inverters?" (pg. 10). [Please note: Yes, there are warranties. All of the manufacturers we use are vetted and provide warranties; they differ by the manufacturer.]
How is solar production monitored?
Tip #23 One of the suggested Warranties & Performance of Solar System questions is "Will I be able to monitor the performance of the system once it's installed? If so, how?" (pg. 10) [Please note: Baker Electric Home Energy's in-house solar service representatives, who work out of our building in Escondido, are able to remotely monitor your system's performance and help with identifying and resolving any production performance issues. This monitoring is included with all systems.]
Solar production guarantees
Tip #24 One of the suggested Warranties & Performance of Solar System questions is "Does the solar provider offer a minimum energy guarantee (common with leases and power purchase agreements)? If yes, how will I be paid if the system does not produce as much energy as promised in the contract?" (pg. 10) [Please note: Baker Electric Home Energy gives a solar energy production guarantee in writing. The Terms and Conditions are included with our contract (in Exhibit 2) and we're happy to explain them.]
Solar and insurance
Tip #25 One of the suggested Warranties & Performance of Solar System questions is "Is there an insurance policy that comes with the solar system, or do I need to take out additional homeowner's insurance? Note that this is especially important if you live in fire-prone areas." (pg. 11) [Please note: Baker recommends customers discuss any possible impacts on their homeowner's coverage with their insurance company. A home solar system is generally covered except in cases of a lease or PPA (arrangements in which the homeowner does not own the system on their house), in which case the financier typically would carry the insurance on that system.]
Best billing plan
Tip #26 One of the suggested Electricity Bill Savings Estimates questions is "What electricity rate do you recommend I switch to for solar, and why?" (pg. 11) [Please note: Baker Electric Home Energy has developed our own proprietary program to evaluate which billing plan is the best for each customer and we're happy to provide our recommendation.]
Selling a home with a solar system
Tip #27 One of the suggested Impacts on Future Sale of Your Home questions is "Will a solar system make it more difficult for me to sell my home or refinance?" (pg. 11) [Please note: For a purchased and financed solar system, a re-fi would add the cost of lifting the UCC-1 filing and refiling it after the refinancing is completed. For leased systems or PPAs (Power Purchase Agreements) in the case of a home sale, there is the possibility that the buyer would require the homeowner to buy out the lease prior to the sale of the home.]
Financing home solar
Tip #28 In the Compare Your Financing Options the guide advises, "Many Solar Providers work with lenders that offer solar loans, but you should check with banks and credit unions as well. Compare offers to make sure you are being offered a reasonable interest rate. (pg. 13). [Please note: We have relationships with several finance providers that have differing programs. We'll be happy to share our insight as to what offers are available at the time, as they do change frequently.]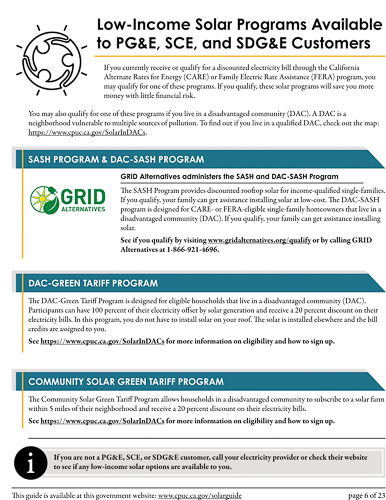 How much money does solar actually save?
Tip #29 The guide notes, "Electricity bill savings estimates are based on several uncertain factors, such as your future energy use. For example, if your family grows, you buy an electric vehicle, or you decide to turn up your air conditioning in the summer, your energy use will go up along with your electricity bill." (pg. 16) [Please note: Baker Electric Home Energy gives a solar energy production guarantee in writing. Also, we design system sizes based on previous energy consumption as well as discussions with the homeowners, combined with our experience in these matters, to predict increases in electricity consumption after the installation of a solar system.]
Net Energy Metering
Tip #30 A good explanation of Net Metering is: "There is a special arrangement with your electricity provider that is called Net Energy Metering (NEM). NEM allows you to get a financial credit on your electricity bill when your solar system sends electricity back to the grid after first powering the electricity needs at your house. Usually this credit is approximately equal to the retail rate of energy. This means that you are credited on your bill about the same amount that your electricity provider would have charged you for electricity during that time." (pg. 17). [Please note: Excess production is carried over each billing period and applied at retail value, however, excess production at the 12 month annual tune-up bill is discounted to the Utility wholesale rate.]
Do I have to switch to TOU?
Tip #31 Under 'NEM and Your Electricity Bill,' "PG&E, SCE, and SDG&E solar customers are required to go on a time-of-use (TOU) rate. A TOU rate will charge different prices for electricity depending upon the time of day. Prices are typically higher between 4 p.m. and 9 p.m., called "peak" hours, and lower the rest of the day and at night during "off peak" hours." (pg. 17). [Please note: We have a proprietary program to determine which TOU plan is the best for each of our customer's needs.]
SDG&E rates
Tip #32 Regarding electricity rates, "Currently, PG&E, SCE, and SDG&E customers are guaranteed NEM (Net Energy Metering) for 20 years from the time their solar system starts operating. Your electricity rate, however, is subject to change. Go to www.cpuc.ca.gov/electricrates for more details on how electricity rates work." (pg. 18). [Please note: NEM billing is a tremendous benefit to solar customers, but it can be confusing and is subject to California Public Utilities Commission authorized changes.]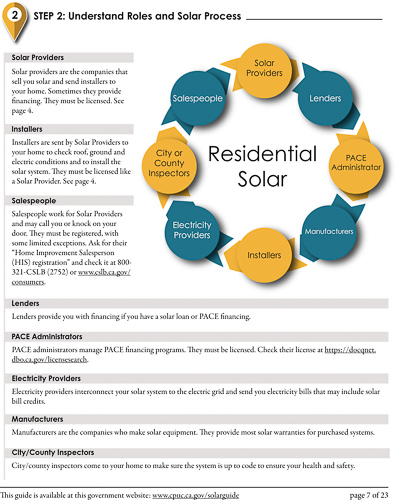 Should I get a home battery?
Tip #33 In the 'Combining Solar with Storage,' "When you install battery storage with your solar system, you can store excess solar electricity produced by your panels for use in the evening when the sun goes down. The software that comes with battery storage automatically determines whether to store the extra energy or export it to the grid to maximize cost savings. Battery storage can also provide limited back-up power." (pg. 18) [Please note: In 2019, between 15% and 20% of Baker's customers are choosing to include a Tesla Powerwall as part of  their PV System as it provides peace of mind in the case of grid outages (an event that's becoming more common in Southern California as a result of the utilities' forced outages and those caused by Mother Nature) and will help to mitigate the effect of potential utility tariff changes in future years, whilst taking advantage of the full 30% ITC tax credit in 2019.]
Total cost of a home solar system
Tip #34 In the section 'The Solar Energy System Disclosure Document,' "This one-page document from the Contractors State License Board shows you the total costs for the proposed solar energy system. It also has information about your three-day right to cancel a contract. A Solar Provider is required to fill out this document. It may be placed as the cover page to the contract. See a blank version at www.cslb.ca.gov/contractors/SolarSheet.aspx." (pg. 19). [Please note: we include this disclosure, as required, as part of our contract.]
Requirement of a solar contracthttps://www.bakerhomeenergy.com/residential
Tip #35 Under the 'Contract' section, "By law, any contract for solar installation must include: Contractor information, including business address and license numbers; Description of the project, including equipment installed and materials used; Contract price, plus finance charge and/or down payment if applicable; Approximate start and end date of the contract term; Notice of a 3-day right to cancel the contract (with limited exceptions)" (pg. 19). [Please note: In addition to including all the required information in our contract, we will work with you to resolve any unforeseen issues. We understand that unexpected issues do come up and we want you to have a great experience, so you'll be happy to refer your family and friends. Our contract is longer than most, but that is to help set appropriate expectations and to provide answers upfront, in writing. We would never force anyone to move forward with an installation simply because we have a contract. We want to be your go to, trusted advisor, for all of your PV solar, energy storage, HVAC, Smart Home, and energy management needs.]
Read the guide thoroughly
Tip #36 In addition to imploring consumers to read the Guide in full, the language in the Guide stressed more than once to read it at your own pace. Do not feel pressured to skim or rush through; the guide is designed to protect you. "Do not feel pressured to read the complete document while the salesperson waits. Ask them to come back at a later date to allow you time to read it." (pg. 3 and 23). [Please note: We send a link to the CPUC Guide well in advance of a customer's consultation so you have plenty of time to review it and have all your questions answered. All solar companies in California are required to have a signed copy of the Guide prior to contract. There is no obligation associated with signing the Guide.]
The California Solar Consumer Protection Guide, which goes into effect September 30, 2019, is a great tool to inform solar customers and give them a worksheet to get the right answers from the solar providers they are considering. We encourage you to read and follow the Guide's suggestions and advice. We are very proud of the quality an integrity we put into each and every step of the solar process, and we are sure that the more you know, the more likely you will be to see the benefits of contracting with Baker Electric Home Energy for all of your home solar needs.