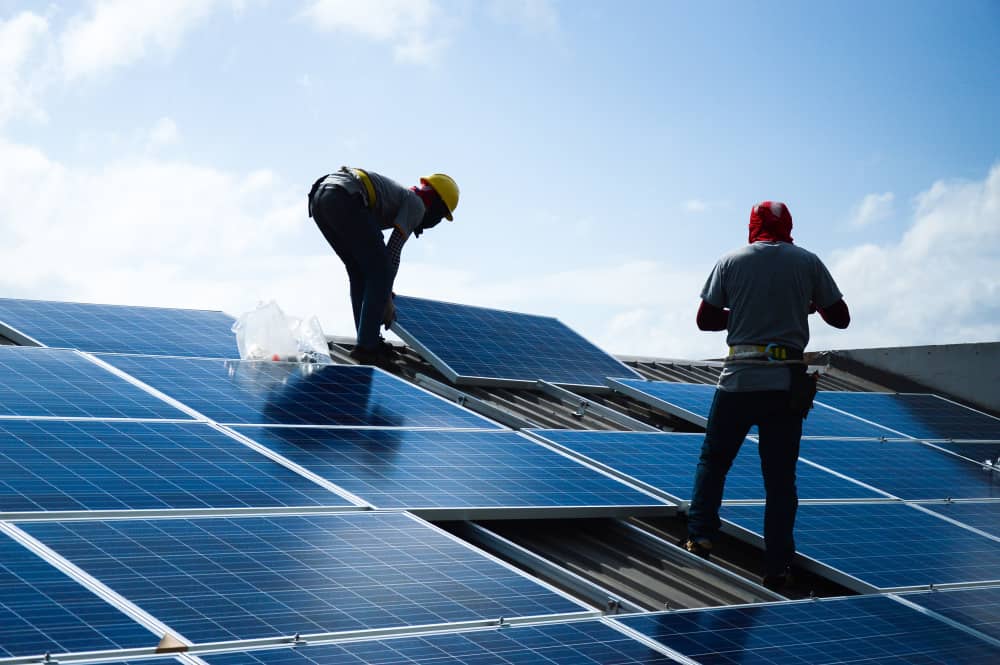 Congratulations! You have finally decided to go solar. But now you're wondering how long it will take to install the entire setup and start generating power for your home. Estimating a timeline for installing solar panels depends on several factors, including:
Solar panel system size and type 
Local permitting and approval 
Construction and installation
Inspections
So, how long does a solar panel installation take? You might be surprised to learn that the actual rooftop installation—and any associated construction—is the quickest part of the process. Let's take a closer look at an estimated timeline for each step of the process to get more clarity on the total amount of time it takes to install a solar system so you can realize the benefits of home renewable energy.       
How Long Does A Solar Panel Installation Take: An Estimated Timeline
Installing solar panels is not an overnight process. The timeline for going solar can vary depending on where you live, permit approval, and whether you are also installing a battery backup or an additional service panel. Most importantly, however, your timeline is contingent upon the solar installer you choose as a partner. The following is a breakdown of the solar installation process, including an average timeline for each step of the process:
Site Assessment (1-2 Wks.)
After teaming up with a solar installer, the first step is a site assessment. Site assessments typically take 1-2 weeks, during which the solar installer evaluates your roof angle or yard to determine the ideal placement for solar panels. The assessment also takes into consideration any shading concerns with your roof. If the analysis determines that any common upgrades are required, such as re-roofing, upgrading electrical panels, or reinforcing the roof, those projects would increase the timeline of your solar panel installation.
System Design Engineering and Approval (3-4 Wks.)
The solar installer uses data collected on your roof angle and sun exposure to select solar components and design the solar array that supports your energy requirements. This is a critical step in the process, because you and your installer want to select a solar panel model and design that optimizes your system's power efficiency and durability.
The engineering design and installation plan for your solar array should also meet local code requirements. Post-design, you will confirm the layout to ensure that it meets your expectations. Each residential solar project is unique, and as a result, the design timeline varies. It can take anywhere between 3 to 4 weeks.
Permits (2-8 Wks.)
This step is tricky, and it's usually the longest part of the solar installation process. Solar permitting requirements vary based on your location and the type of solar installation you choose. To apply for a solar permit, including an electrical permit and a combination building permit, you need a long list of documents available from your solar installer. If you submit an application that needs corrections, it further extends your installation timeline. The estimated processing time for a solar permit application is 2 to 8 weeks or even more, though in some instances, Baker Electric Home Energy can help expedite the permitting process.   
Installation (>1 Wk.)
Once all the paperwork is approved, the actual installation of solar panels begins. Your solar installer will arrive on the scheduled day with all the required equipment—solar panels, solar inverter, wiring, cables, etc. Depending on the size of your system, the installation could be completed within a day, or it could be extended over a couple of days. How long a solar panel installation takes also depends on your solar installer's expertise and experience, as well as the crew size.
Inspection (2 Wks.)
Post-construction, your local county or municipality does a final inspection of the solar panel installation before your system is connected to the grid. The inspection ensures that the solar panels are properly wired as per the local codes, and that the electrical wiring poses no potential safety hazards. The inspection stage and timeline vary depending on the time of the year and the number of inspection backlogs throughout your local community, but we'll add a conservative estimate of two weeks, for consistency.
Utility Interconnection (1-4 Wks.)
Your local utility company inspects the solar panel installation before installing a bi-directional meter to track how much solar energy you produce, and then switches your household to solar billing. The wait time to get approval for Permission-to-Operate (PTO) from your utility company can take a week to a month.  
Based on these estimations, even though the actual installation process only takes a day or two, a best-case scenario timeline for going solar would be about four months in total. However, rising demand or unforeseen backlogs could extend this estimate. It would be wise to double the estimated timeline to an eight-month plan to help manage your own expectations and to give your installation team the time they require to do their best work for you.
Homeowners often find the solar panel installation process to be somewhat overwhelming. Your best bet for navigating these complicated steps smoothly is by depending on an ethical, reputable solar installer.
Why Should You Partner With A Trusted Solar Installer?
An experienced and knowledgeable solar installer provides end-to-end, in-house expertise on the solar installation process. Whether advising you about the right solar panel model, conducting a pre-engineering site survey, design-engineering your solar system, applying for permits, or installing solar panels, your solar installer should be someone you can rely on.
Even after the installation, you'll need a trustworthy installer to deal with jurisdictional and utility inspections, notifications about utility approvals, and a final check-up of the installed system's performance.
At Baker Electric Home Energy, we have guided over 15,000 homeowners through the journey of going solar. As solar experts, we have been serving the local Southern California community with clean energy solutions for more than 15 years, taking care of every step of the installation process and ensuring successful outcomes.
How long does a solar panel installation take? Baker Electric Home Energy can provide you with all the information. Our exemplary customer service and building customer confidence have earned us the Torch Award for 2021. Contact us to learn more about our way of doing business, The Baker Way®, and provide clean energy solutions.