Solar & Home battery
California's Net Energy Metering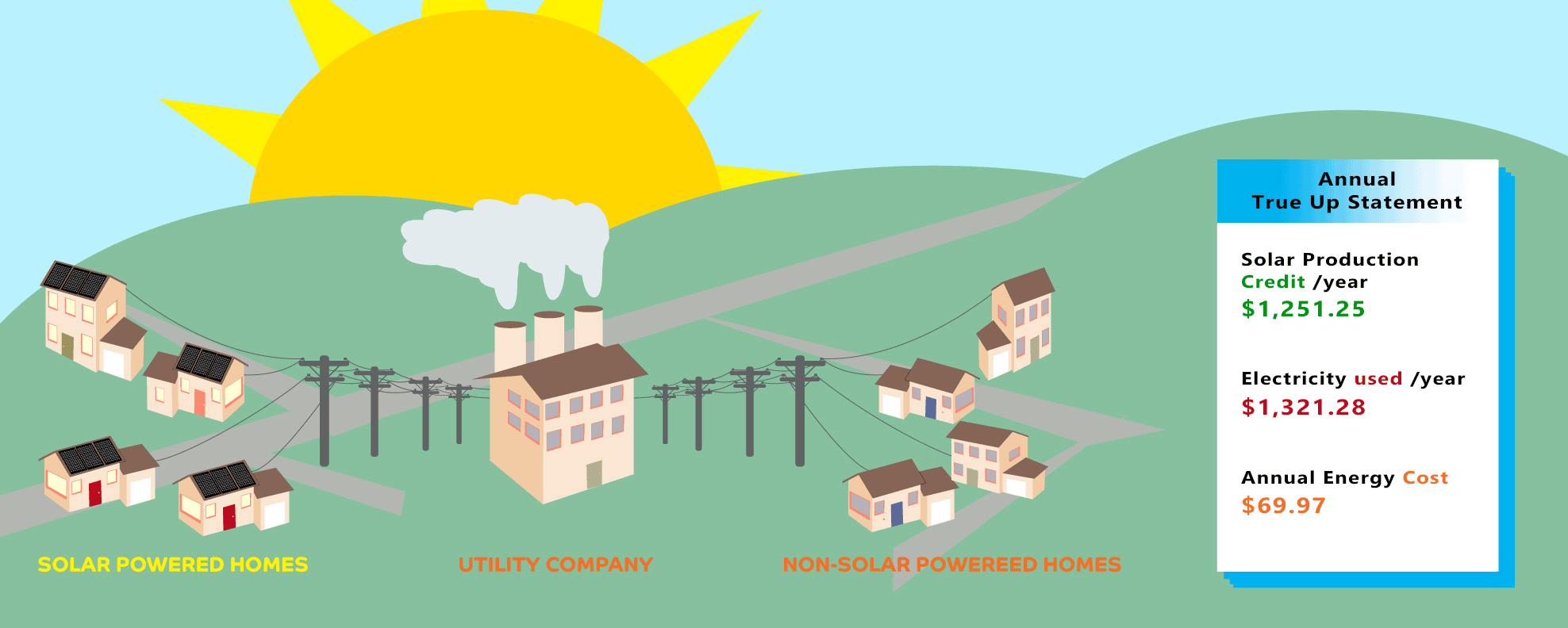 Understanding Net Energy Metering
Net energy metering (NEM) is a program that credits a solar customer's electric bill for surplus energy they send back to the grid. It's available to all solar customers of California's three major utilities – Pacific Gas and Electric Co., San Diego Gas & Electric Co., and Southern California Edison.
Today, NEM is on its second iteration, called NEM 2.0. Right now, the Utilities are pushing for another set of changes, which would launch a third iteration – NEM 3.0. These changes are unfortunately expected to reduce the savings potential for new systems installed after it goes into effect.
What is net energy metering?
If you've been looking into solar energy, you've probably heard the phrase "spin the meter backward". Net metering is exactly what that refers to – pushing surplus power back to the grid for credit that lowers the amount you ultimately pay on your energy bill.
Here's how it works: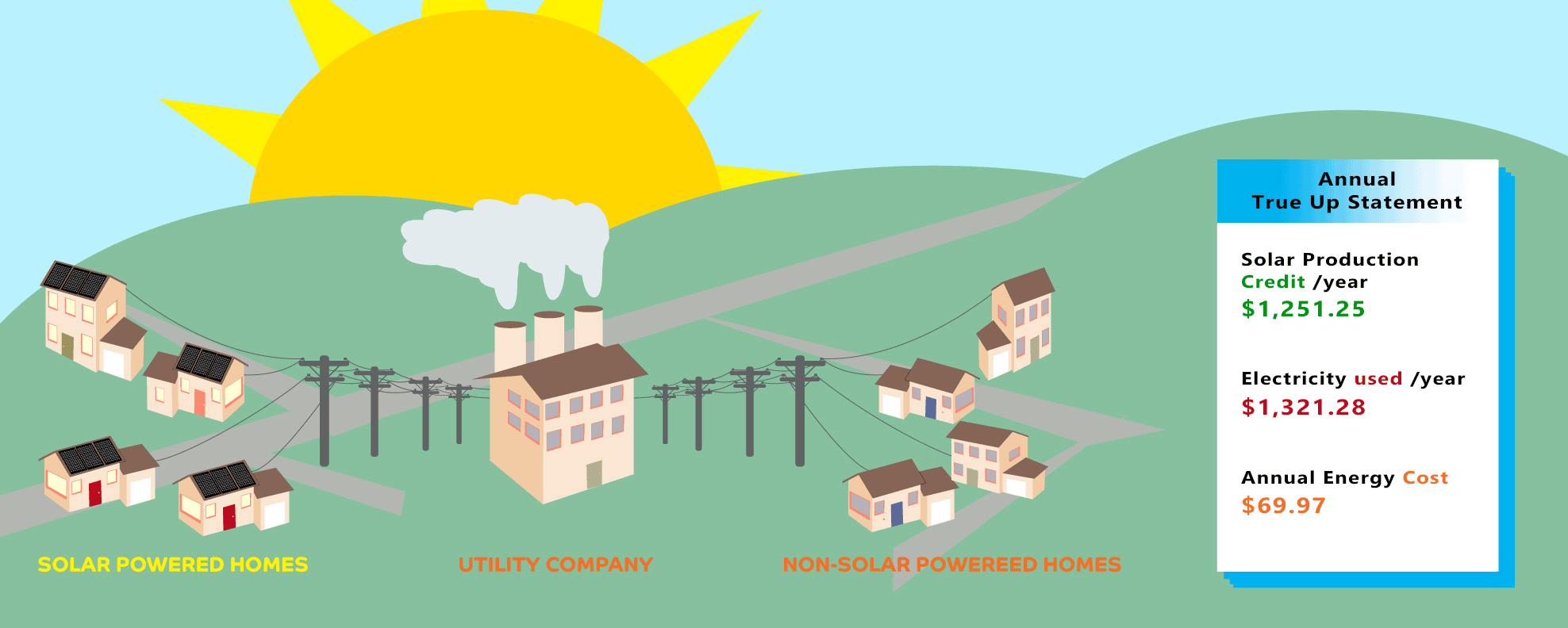 You send surplus energy to the grid
Utility sells it to other customers + credits your bill for the amount you sent
You pay only the 'net' amount after applying your credit
Net Energy Metering 2.0 vs. NEM 3.0
Rooftop solar installed today benefits from NEM 2.0 terms and will continue to for 20 years, even if new program changes are introduced. New solar systems installed after NEM 3.0 goes into effect and will operate under those terms.
As of now, the proposed changes for NEM 3.0 aren't final, but the intentions are clear – compensate solar customers with less credit + charge hefty monthly fees.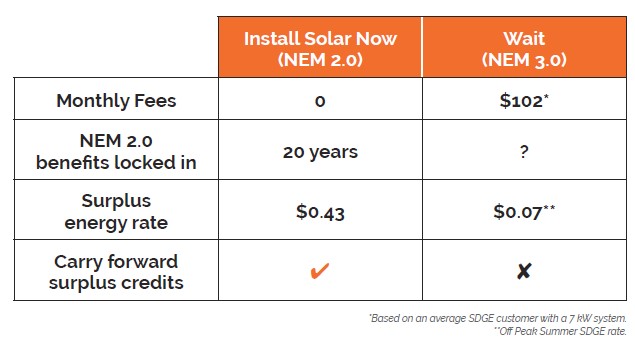 NEM 2.0 Terms (current)
No extra monthly charges
Buy & sell electricity at the best rate with Time of Use Billing
Get solar credit that matches the retail rate
Build up solar credits for times you need more
NEM 3.0 Terms1 (expected)
Get 77% less credit for surplus energy sent back to the grid
Pay an extra $100/mo. just to have solar energy*
Solar credits won't carry over month-to-month (so you can't use them when you need them most)
Peak summer electricity rate increases as high as 10%
Note: Information based on publications to date.
Final outcome may be different.
What's the deadline to beat NEM 3.0?
The Utilities want NEM 3.0 to happen as soon as possible next year. The CPUC is expected to decide final terms in mid-January, including a time frame for the changes to take effect.
Here's the current recommendation:
The CPUC advises that customers who install solar under NEM 2.0 will not be subject to NEM 3.0 terms for the first 20 years of the system operation2.
The CPUC advises that customers who install solar under NEM 2.0 will not be subject to NEM 3.0 terms for the first 20 years of the system operation

2

.

 

To do this, you'll need to have submitted an initial interconnection application before NEM 3.0 is in effect. Keep in mind, this is one of the last steps in solar installation.

 
So what does that mean? Start now. Our professionals can help you schedule your complete installation before the end of the year.
How long does it take to install a solar energy system?
As a general rule, we recommend planning for about 16 weeks from start to finish.
Sixteen weeks? Yes. The process involves everyone from your HOA to city inspectors, to your utility, and more. It could take even longer for someone who's not an expert, so working with a trusted provider with established relationships is vital.
Want to learn more about going solar? We've got everything you need to know here.
What will happen if I wait to go solar?
You'll likely pay more for solar energy over the next 20 years.
Take a look at this example:
Average size solar system installed under NEM 2.0
May save around $200/mo.
Expect system to pay back its cost in about 5 years.
Same system installed under NEM 3.0
May save only $70/mo.
System payback time would likely more than double, to about 15 years
How can Baker Electric Home Energy help me?
Our goal is to help you free yourself from the nation's highest energy costs – especially before they get even higher. Call us today and our qualified specialists will help you:
Explore special financing offers

 

Complete your installation in time to lock in NEM 2.0 terms

 

Apply for the 26% Federal Tax Credit

 

Optimize your production for maximum long-term savings

 
*All NEM 3.0 information based on proposals published to date. Monthly fee calculations based on an average SDGE customer with a 7-kW system. Fees are expected to start at $56/month and increase based on system size.
1 Solar Rights Alliance: Fact Sheet
2 Save California Solar: Consumer Info